Creating a Virtual Airline/Organization
The Infinite Flight Virtual Airline Regulatory Board is designed and intended to enhance the VA sector of the Infinite Flight Community. The IFVARB is intended to make VAs more professional, organised, and in line with the guidelines and standards of the community. In addition, the IFVARB helps clear up some of the clutter on the forum that certain members find inconvenient and irritating. While also making the presence of Virtual Airlines clearer, more beneficial, and less confusing for those interested. Our main goal is to benefit new and existing VAs that add value to the community by creating a professional, organised, and pleasant atmosphere for like-minded individuals to thrive and grow within. Below, you will find information on how the IFVARB certification system works and some useful tips while creating your VA or VO.
Application Process
These are the steps that should be followed in the VA/VO certification process:
Search the Official IFVARB Database and make sure your airline is not already taken.
Submit an application via the Apply Page. Please provide your Experience Statement* and Operations Plan*. They MUST be shared publicly in Google Documents. You will also get an Admin assigned to you based on the region of your VA/VO*.
An IFVARB Admin will contact you directly in the Infinite Flight Community to inform you whether you are cleared to enter the review wait-line or not.
Your application and website will be graded by multiple members. Feedback will be given with suggestions for edits or other changes for the VA/VO. You can view the reveiws through the Status Page. You can get your reservation code in the email that was sent to you when you filled out the application. An IFVARB Leader will be your main point of contact if any questions or concerns arise.
Once approved, you will be added to the active database found Here and will be allowed to post in the #VA category on the Infinite Flight Community.
*Experience Statement
The Experience Statement allows us to get a bigger picture of you as a potential CEO. It contains 4 questions:
Why do you want to start a VA/VO?
What do you hope to get from starting a VA/VO?
Why are you a good candidate for running a VA/VO?
What previous experience have you had with VA/VO, and what position and responsibilities have you had during that time?
Be honest and specific. There isn't really a wrong answer to any of these questions, however more interesting and detailed responses are more likely to impress the staff groups, making them more likely to want to work with you. Your experience statement must be in Google Docs format with a viewable link provided to the admin. This is to enable the IFVARB staff to view your statement when necessary.
*Operations Plan
The Operations Plan provides the IFVARB staff groups with information about your potential VA. There is no requirement for a website, but you should include your branding, ideas and plans. Again, more detailed and interesting plans are likely to attract the member groups, so put in effort now- it could mean you are certified quicker in the long run. To create your operations plan, click here and make a copy of the document. You should be able to edit it after this is done. Make sure that link sharing is on before you submit it in your application.
*Admin Regions
While other admins are in charge of the regions shown below, @Danman is in charge of original VA/VO's.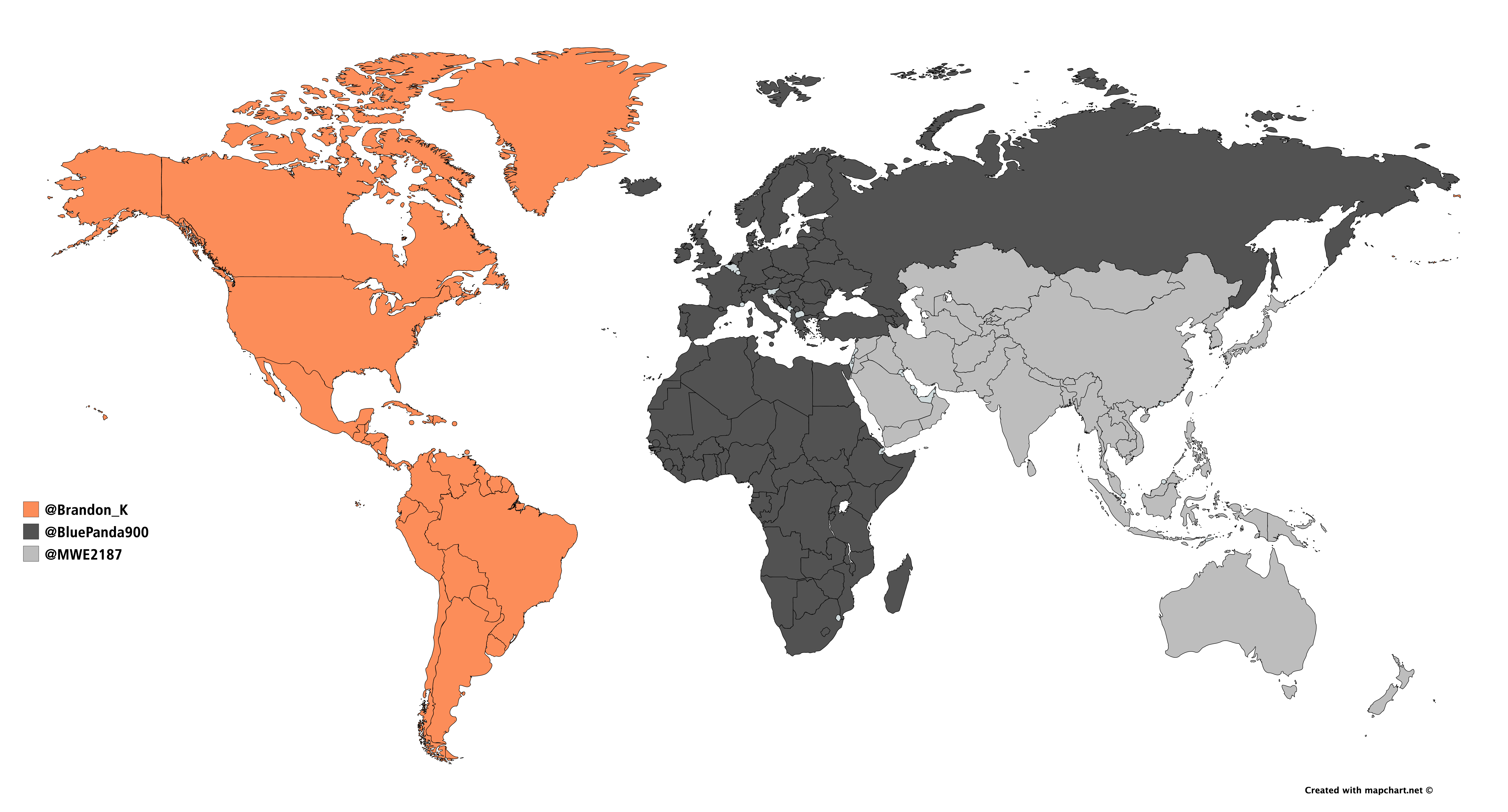 Tips
The Website
The Basic Essentials can be remembered by the simple acronym: FRR
F: Fleet – If your airline is based on a real-world counterpart, make sure the fleet is somewhat realistic to fit the Airline. If your airline is original, you may have fun with the fleet. Remember to maintain a professional image when doing this though, as some people won't be inclined to join a VA with a fleet consisting of a 787, Cirrus and F-22.
R: Ranking System – Ever since IFVARB took over, we have seen an increase in the use of ranking systems in VAs. A ranking system should be simple and be comprised of at least 3 major parts: First Officer, Captain and Chief Captain. Though a ranking system is not required, having it will help your VA's chances of getting approved by the Board.
R: Routes – Once again, if a VA is modeled off of a real world airline, the routes should be similar to the actual airline.Make sure that your VA is also preparing for the upcoming global update, which will most certainly come as a surprise. Preparing for the update not only gives you an edge over those who have not yet prepared when it does come, but also gives you an edge in the IFVARB process.
The VA website should show what you are most proud of in your VA. Remember that this is the main aspect used in the IFVARB process, so make sure you do it justice!
Have some original aspects to the website that no other VAs will have! Make sure to appeal to the user base – if your VA isn't original, there aren't many people that will want to join it. Items like crew portals, flight planning, LiveFlight maps of the VA pilots and other items (we won't give everything – if we did it wouldn't be unique) are very appealing to prospective pilots and staff members. These items make your VA stand out from the crowd, which leads to more pilots!
If you are modeling your VA after a real life airline, please be sure to include prominently that your VA is not affiliated with the actual airline. It is also advised to provide a link to the real airline just in case. If possible, a splash screen is suggested to advise of this. This will help to separate your VA from the airline and to minimize legal action. (aka, take down your site)
Branding
Your VA brand is also one of the most appealing aspects to your future pilots. Make sure to take some time developing your themes, thread structure, logos and events.
Theme: Your VA "theme" (as we will call it here) should be a message that is reinforced to make your VA stand out from the crowd. Examples include Southwest Virtual143's "Heart sets us apart" and British Airways15' "Feel the British Flair". When creating this theme, make sure it is short and easy to remember. This way, many aspiring pilots will remember your VA. A theme may also include special graphics, polls (like United Virtual24's event polls) or a series of related articles on a website.
Thread Structure: Your VAs thread should have multiple images and graphics that pertain to your VA or its message. Items like American Virtual's and Qantas Virtual's #GreatMates Graphic. These graphics offer views a visual representation of what you are saying in your thread, a big plus when designing your VA.
Logos and Images: Logos and other branding images and graphics are some of the most important aspects to the professionalism level of your VA. Custom graphics really draw in pilots like those of Jet2 Virtual and Lufthansa Virtual. Having the custom graphics and logos gives you a good status with the IFVARB as well. A VA logo should be simple, and yet still have some level of sophistication to it. Logos like IFATS13' and TravelSky's are very professional and is simple, and also rings a bell when pilots see it.
Events: A VA's events should be unique and allow for some fun as well! Events like United Virtual24's 747 Frenzy are exactly what the board are looking for. Events that offer some fun, with a theme that pertains to the VA. We won't give you too many examples, as we want to see some more really original events from VAs!
infrastructure
In the world of infrastructure, less is more, meaning giving fewer people more power, is more meaningful than giving lots of people very small areas of coverage. As most of our Virtual Airlines, use slack I would recommend one owner and around 6-8 admins as if everyone has admin, admin means nothing. In terms of ranking, keep it simple with these criteria for promotion:
Flight Hours
Maturity and Behavioural History
Activity
Once you have your ranking system down, you must create a board of directors and that's it. No need for presidents and other such things. Here is an ideal board of directors:
CEO (Chief Executive Officer) - the big boss or Mr Manager (kudos to those who get that reference). The CEO's role is to supervise and organize ideally they should assign roles and bring it all together, as well as approve and request any changes.

Head of Internal Affairs - their role is to manage the member's of the Virtual Airlines, from afar they are responsible for changes to the curriculum or ranking system in conjunction with the COO

COO (Chief Operating Officer) - they are responsible for day to day operating of your Virtual Airline and ensuring it all goes smoothly, accounting for any change along the way. They are more "boots on the ground" than the CEO but still play a very large part in the major decisions, regarding the operations of said Virtual Airline.

Recruiter - this is the person responsible for bringing in new pilots, vetting them and ensuring they are fit for flying with your Virtual Airline

HR Manager - they follow the same guidelines as the director of internal affairs, but on a more individual basis, responsible for making sure disputes are resolved and the Virtual Airline is a ** safe and fun** place for all

Chief Pilot - this individual ensure pilot activity and skill is kept constant and to a high standard. As well as ensuring that any changes that are needed, are put into the pipeline.

Head of Public Relations - this person's role is to ensure that the Virtual Airline is associated with that of professionalismand if desired, realism. They must keep the website and main announcement thread up to date and relevant
Communications
As we have alluded to before, in this very thread, Slack is the recommended form of communications for all Virtual Airlines. Obviously, it is not a requirement and there are loads of different ways for you to communicate be it through discord, there IFC or another third part app/website. However, Slack is the most secure with a lot less trolls than discord, and much easier to customise be it though groups, commands or shortcuts.
As mentioned in the infrastructure section of this tutorial, less is more in terms of admins. If everyone receives admin, it doesn't mean anything and you leave yourself extremely open to trolling and other such nastiness. We also suggest, turning off "everyone can invite" to avoid the corruption of your slack with trolls. Voice ATC services are also fun but at the same time are a backdoor for trolls to enter. Any trolling or other issues should be bought to the attention of the IFVARB, the Virtual Airline should block them immediately, however.
Here is the link to the slack website - setup is quick and painless
https://slack.com
Enjoy!
In SummarY - VA Checklist
VA website
VA Thread and method of signing up
VA Key Staff (see infrastructure)
VA Pilots
VA Events
Freqeuntly Asked Questions
You can either Personal Message them on the Infinite Flight Community or Direct Message them via the IFVARB slack. The administrator team can be found below with their contact information linked.
We always love to hear the community's feedback! Feel free to post on the feedback thread on the Infinite Flight Community or personal message any IFVARB Admin. We will try to respond as soon as possible!
You are able to reserve an airline if you meet the requirements on our Apply Page here on our website. It is important to meet all the requirements and provide all the information asked for in the application to successfully reserve an airline.
Personal message the responsible Administrator on the Infinite Flight Community and they will be happy to look into it for you. Please do not inquire directly on the thread as it creates unnecessary clutter. Thank you for your cooperation!